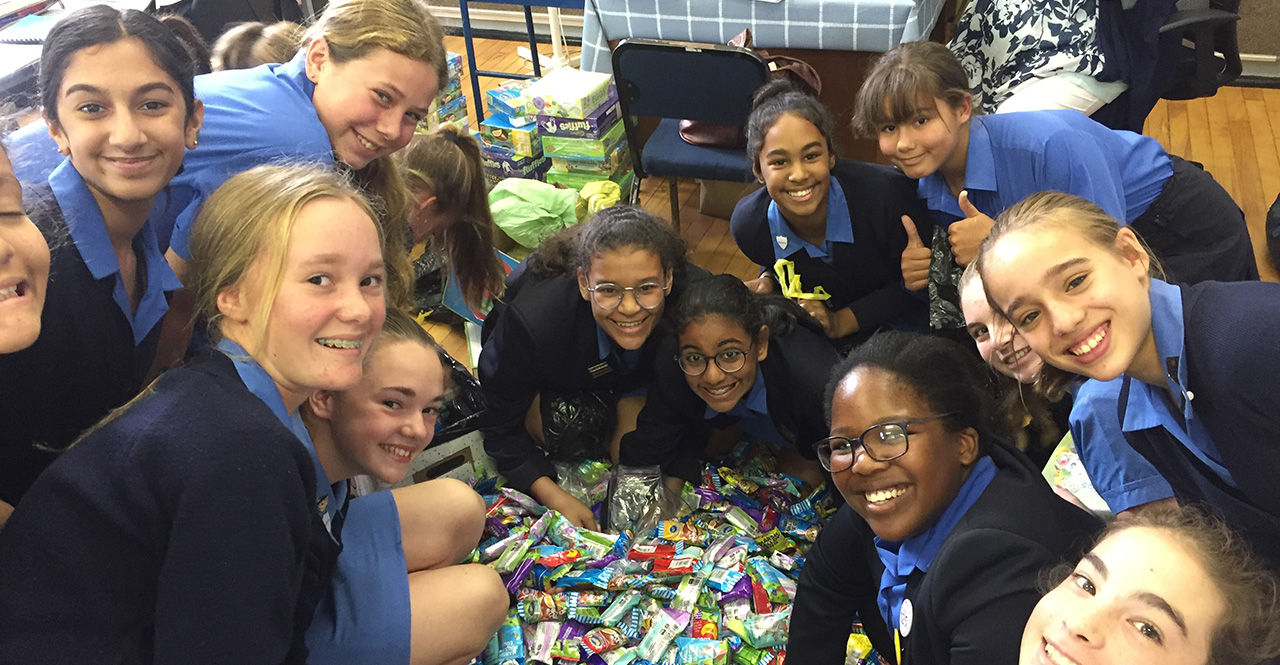 Bug Buddies
Each girl is a member of a family group, consisting of a girl in each grade from Grade R to Grade 7.
This provides opportunities for leadership to the older girls, as well as fostering a caring community in the school. Fun projects help the girls get to know each other.
Support Charities
We encourage our girls to be aware of the needs of others and to share our gifts and talents, as well as providing tangible help. Projects include fundraising for various charities through civvies days once a term, as well as collection of items for causes such as charities supporting children, animals, women's shelters and others on House Days.
Our Social Responsibility Committee  spearheads drives during the year. Every year over 10 000 marshmallow eggs are collected and distributed to The Maitland Cottage Homes, Arise, Linawo Children's Home, Vrygrond Community Creche, Pollsmoor Creche, Educare Centres throughout the Western Cape as far as Hermanus as well as to hospitals, orphanages and old-age homes.
Annually, we are involved in raising money for various 67 Minutes for Mandela projects which are enthusiastically tackled by both staff and girls.
The Early Act Club undertakes age-appropriate projects to help the needy and they regularly visit the Police Station and Library to hand over cards to show our appreciation for the work they do in our community.
Many of the groceries we collect are used to assist the feeding scheme and once a week we collect sandwiches which are distributed to Thornton Road Primary School.
Grade 7 girls take an opportunity at the end of the year to organise visits to various organisations for the Aged where they spend some time sharing stories and a cup of tea with the residents. This brings much joy and satisfaction to both girls and residents.
We are extremely proud of this important role that we play in assisting communities who are less fortunate and we are proud that we are educating young ladies to grow up with a strong sense of wanting to give back to their communities.
Recycling
As part of our drive to eliminate litter and encourage responsible use of resources, we recycle paper.
Myschool Card
Look out for the distinctive rainbow logo and help us raise funds for the school! As your chosen beneficiary, this initiative rewards Rustenburg Junior with a percentage of each sale when a MySchool card is presented at the time of purchase of goods or services at participating merchants. Obtaining and using the card incurs no costs. Friends and family of current pupils, as well as former pupils, who are willing to register Rustenburg Junior School as the beneficiary, are encouraged to apply for a card. Click on the link below for more information, details of participating merchants, and an application form. Parents of pupils currently at RGJS will be given more information via the school.
Website: www.MySchool.co.za